About Peartree
Peartree Office Furniture is a small company that is big on personal attention, high quality merchandise and exceptional service. A visit to Peartree's showroom is a pleasant experience. You'll notice a wide selection of used and new office furniture, a friendly, low-key sales approach and great prices.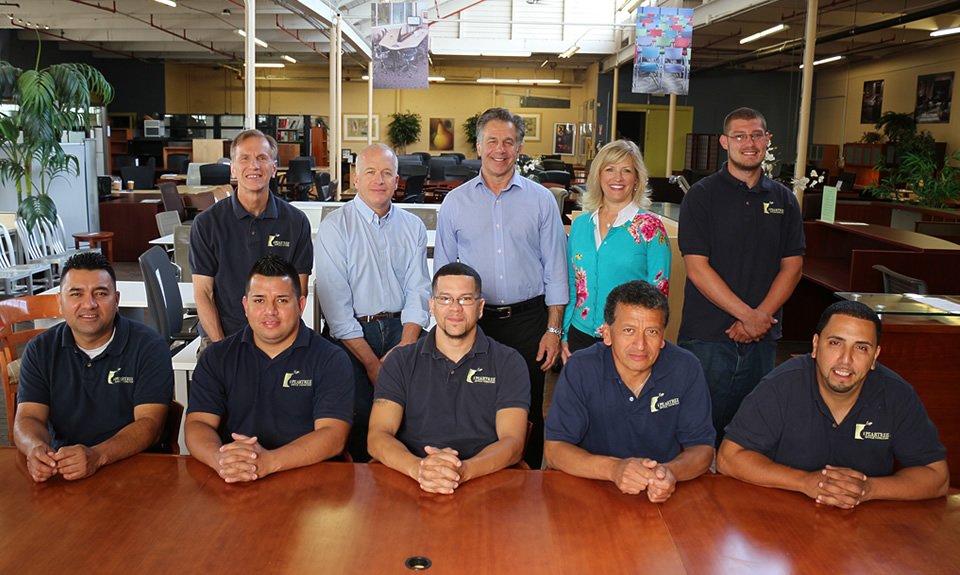 Our History
Peartree was founded by owner Marc Poirier in 1994. Marc began the company at a time when he had 25 years experience in the industry. He had a vision for a different type of company. Marc decided to focus primarily on high quality used office furniture. His concept was that re-selling furniture is a form of recycling. He aimed to "recycle" pieces of high value and desirability in a way that no one else had. Add to the mix an atmosphere where customers receive personal attention and recognize that their business goals are Peartree's priority, and the vision was complete. Hundreds of satisfied customers later, this vision has been realized. Marc has created a unique niche business. Peartree offers the attention and service of a new furniture dealership, with the pricing and mill-building location of a used furniture re-seller. Peartree's rapid growth is solely due to personal referrals. Peartree treats its customers well and the customers are spreading the word to friends and associates.
Experience

The Peartree Difference
Peartree has an ongoing working relationship with the architectural and design community. Our clients include small start-ups, attorneys, telecommunications companies, software development companies, government contractors, architects, and designers to name a few.
Peartree believes that the difference is in the details. We believe that small details make a big difference in product, service, and customer satisfaction!
Knowledgeable Staff
Our staff is ready to help you with all aspects of the office furnishing process. Service with a smile and years of experience in the business.
Quality Merchandise
Exceptional attention to detail is given to product preparation before each piece leaves the shop
Space Planning
GIZA design & layout services are available
Showroom
Our showroom is attractive, well-lit, and laid out in an organized fashion
Savings
The bottom line…Save 50-80% on office furniture
Corporate Liquidations
When larger quantities of furniture and equipment are involved, rest assured that Peartree has the expertise to manage your project smoothly.
Space Planning Services
Difficult space configurations? Let our GIZA space planning software help you design and lay out your space. To the left is a custom created and notched modular desking system, modified by Peartree Office Furniture.
Office Furniture Rentals
We understand that sometimes companies need furniture only on a temporary basis. Whether it's 10 training tables and chairs for a week, 15 cubicles for a six month period, or a temporary sales office that will only be open for three months, Peartree Office Furniture has done it.
We rent the same high-quality office furniture that we offer for sale. All items are delivered, set up for you and then picked up when you are finished with them. How can we help you? Call us for a quick quote on your rental needs.
Leasing Services
Leasing is an alternate way to finance your furniture needs for a longer period of time. Peartree Office Furniture has recently partnered with Lease One to offer you new ways to finance your furniture.
Did you know that lease payments are operating expenses and therefore are 100% tax deductible in most businesses? Leasing preserves your existing lines of credit and working capital and can improve your balance sheet by reducing long-term debt. With flexible terms to suit your needs and no hassle, quick approvals this may be the way to update your furniture with little cash outlay.
Delivery & Installation
We offer delivery and installation of our products at times that are convenient to you. All of our products get touched up before leaving the warehouse; this attention to detail makes us different from other companies in the industry.
We go above and beyond!
We Buy Used Office Furniture!
Have something to sell? We are continually purchasing high quality used furniture. If you have items you would like us to consider, please email or fax us an inventory of what you have and we will make an appointment to come by to see it.
Reconfiguration Services
Office furniture requirements can change within a workspace over time. Sometimes a reconfiguration of your existing furniture is just what you need. No matter where you originally purchased your furniture, we can help you redesign your space.
Dennis is our in-house reconfiguration expert and will meet with you to listen to your new requirements, look at your existing office furniture and come up with a variety of solutions including re-using your existing furniture, selling inventory and buying additional items, or just starting with new and used pieces.
We are experts at every stage of the process: designing and maximizing your space, guiding you through the process and doing the actual physical work of tear down, moving, and rebuilding existing furniture to create your dream space.
Our GIZA design program will help us design a workstation floor plan that is custom planned just for you and your unique space configurations.
Call Dennis today to get your project started.