AIS Calibrate Community™
Casegoods
Workplace Solutions for Individuals and Teams
INSPIRATION STRIKES THE
OPEN OFFICE

You can feel it from the moment you walk in. An upscale aesthetic. A custom sensibility. Even a sense of permanence. The inviting wood laminate and architectural design are so much more than you'd expect from an open office, and Calibrate Community blends them easily to create inspired spaces for individuals, for teams, and for everyone.
EFFICIENT DESIGN
MAKES MORE WITH LESS


Calibrate Community is built around a laminate spine, an efficient central feature that gives every worker convenient access to power and data. That same spine can be combined with upper and lower storage elements from Community's simple kit of parts, letting you establish boundaries, create a sense of belonging, and manage access to teammates without any extra panels or walls.
VERSATILE SPACES
EMPOWER EACH WORKER

Every space combines woodgrain finishes you'd expect to find in the executive suite with work and storage choices that can be adjusted to fit individual needs. Together, they infuse the office with a sense of well-being and the support people need to do their best work.
AND HELP THEM
COME TOGETHER
AS A TEAM


The unique sliding worksurfaces of Community help people make changes from moment to moment throughout the day without the need for an additional conference room. A shared office can adapt into a collaborative space on the fly, with individual worktops sliding together efficiently and power always within reach along the spine, no matter where worktops are positioned.
YOUR VISION, OUR COMMUNITY

Community offers endless combinations for applications that are designed to specifically support your team.
ONE COMMUNITY FOR ALL

Smart design and intentional engineering make working with t his simple kit of parts easy. Designers plan within Community, not around it.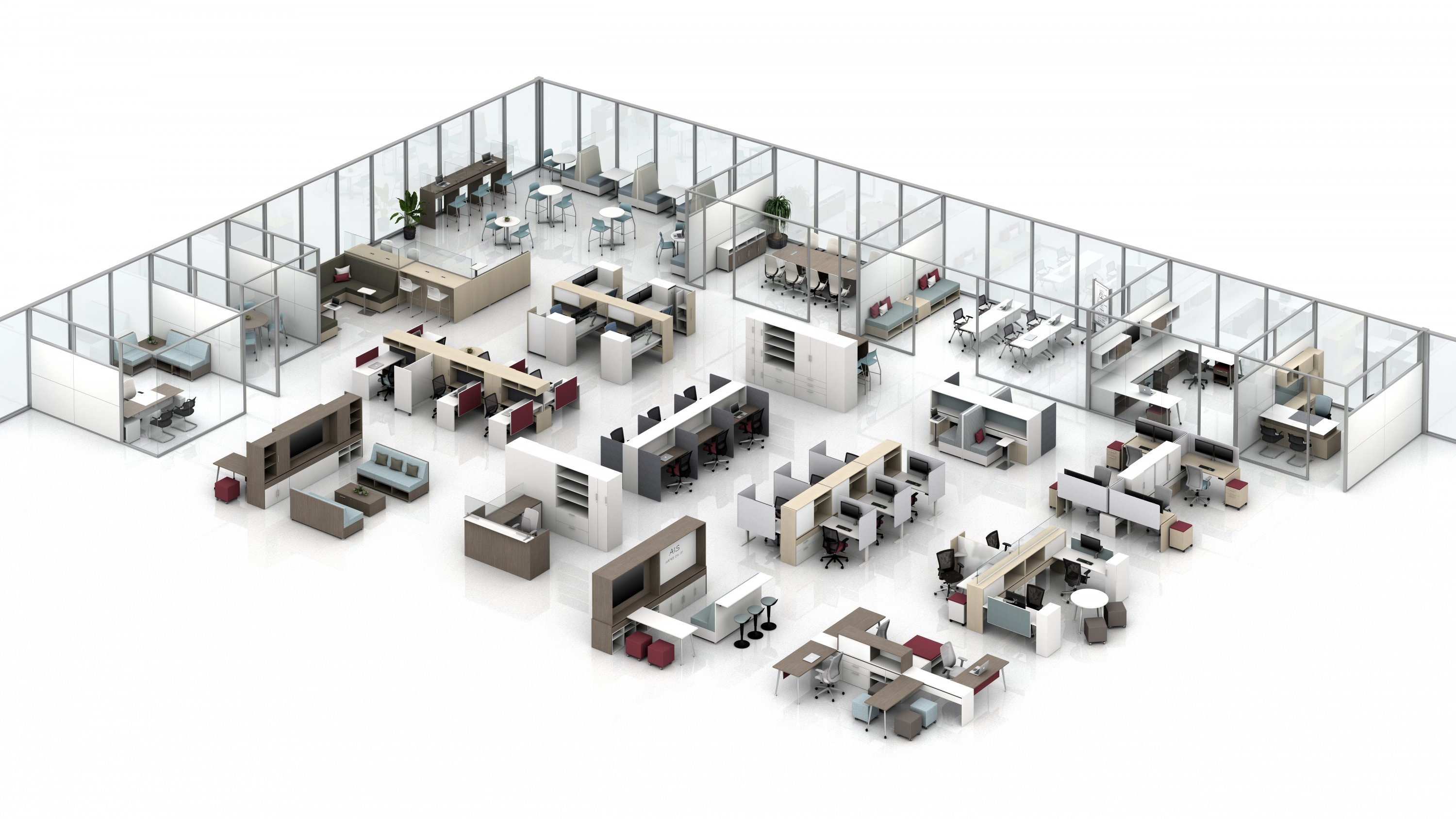 BUILD YOUR COMMUNITY

Calibrate Community joins the Calibrate Series family of private office casegoods, reception, storage and conferencing to offer a full workplace solution. Easily scaled to support a variety of needs throughout an organization, Community can create boundaries and borders, offering a sense of place for users and groups within a company.
OPTIONS &
FEATURES

Dimensioned for integration with Calibrate Series Products
Spine depths: 18, 24, 30, f. 36″
Spine mount heights: 21, 29, 42, f. 46″
Combine Community Spine and Upper Hutches up to 74″ overall height
Community Lower Storage is available at 13″ and 21 " high to fit under and support 21″ and 29″ high spines
Stack-on Upper Storage Hutches available in many configurations and multiple heights, depths and widths
Power runs through spine, with flip door access to keep cords out of sight
Spine is available as dual sided, single sided and non-powered
8 wire, 4 circuit power with side-mounted base infeeds, ce iling infeed, and end mount poles
Table and worksurface options include:
Fixed and sliding run-off
Height-adjustable
Cantilevered from spine (with or without legs)
Stacked (21″ spine height only)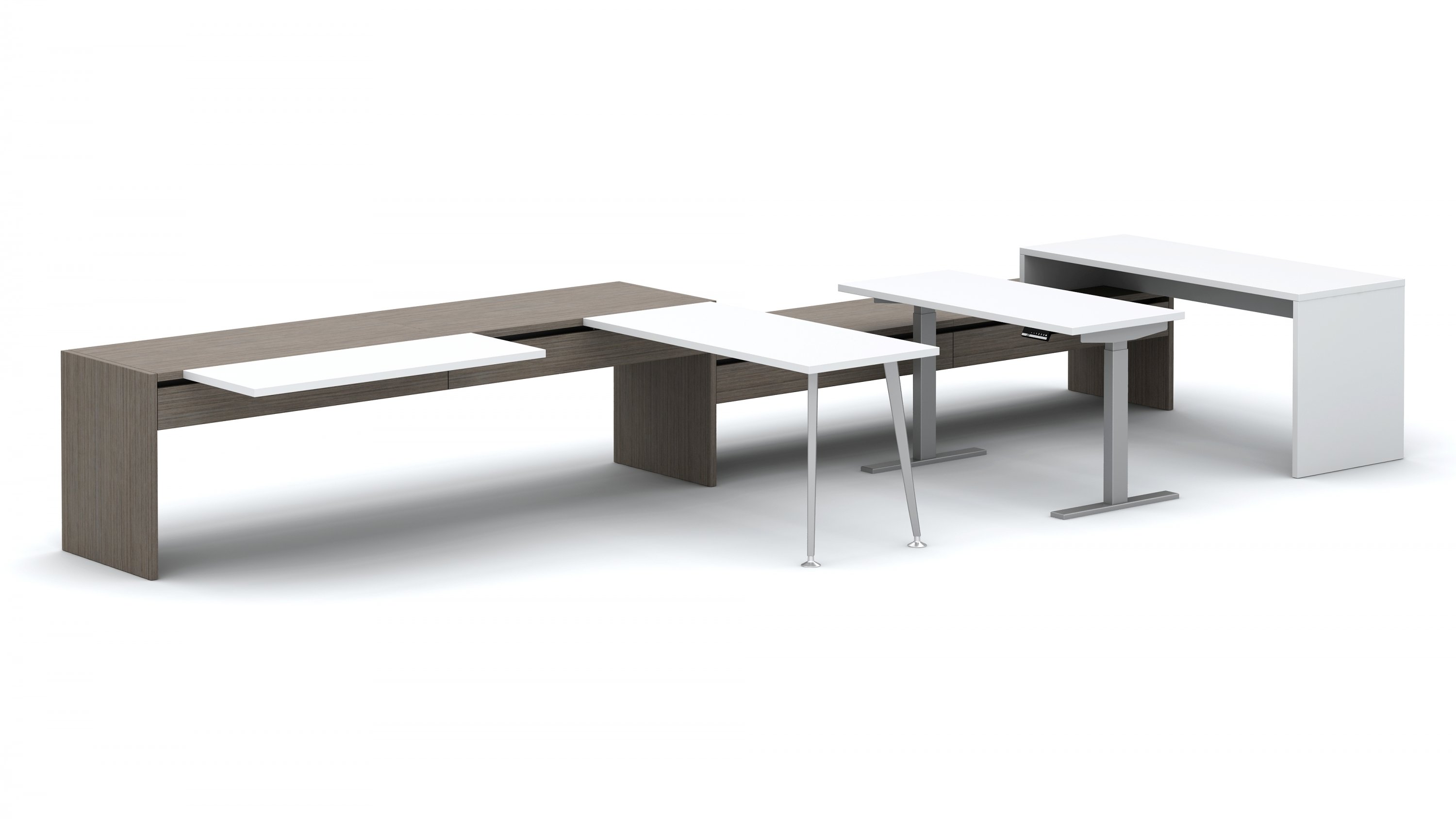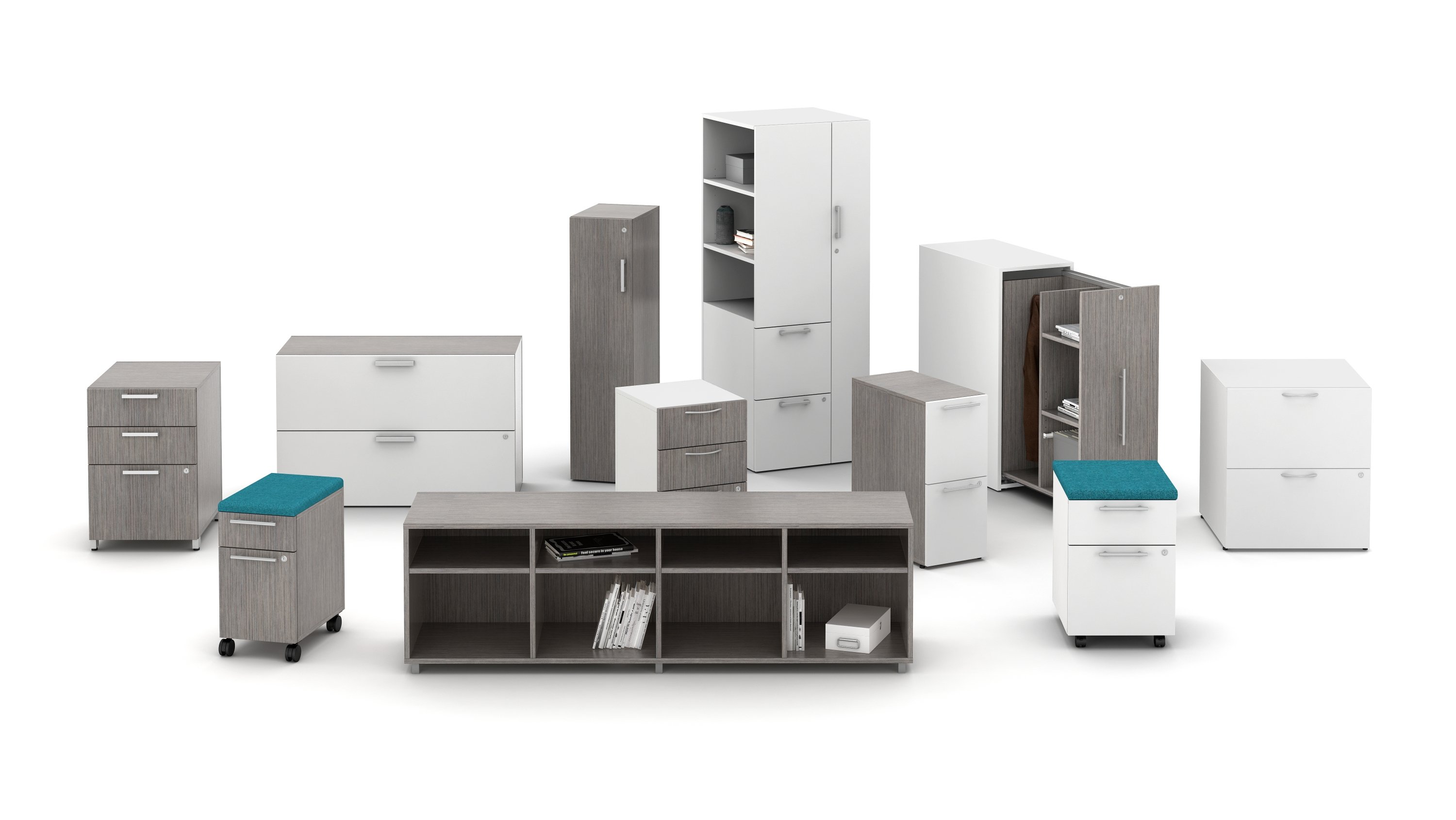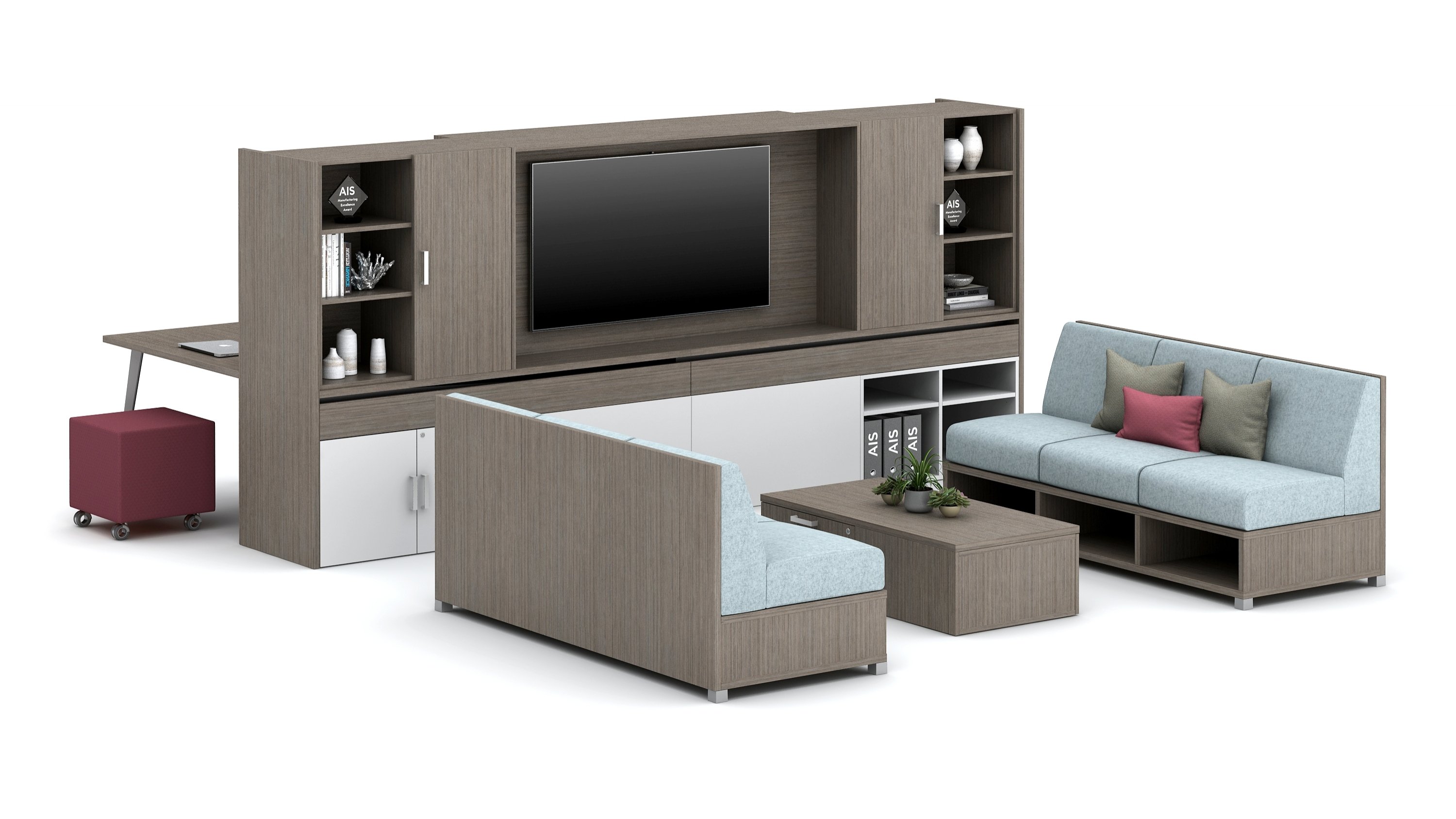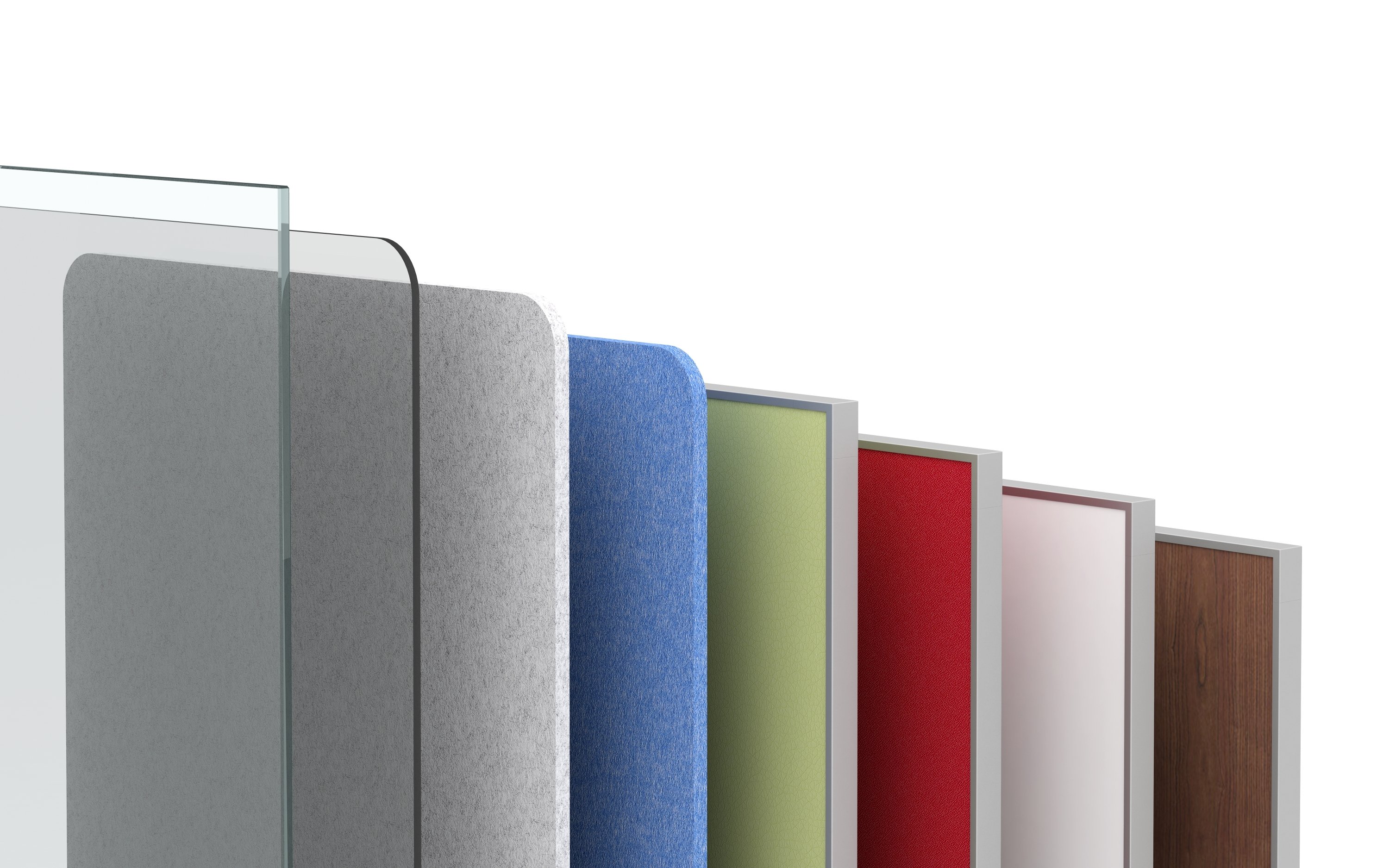 Personal Space
Use the height and depth of the spine to create space between work stations. Add screens to create visual privacy between individuals and support focused work.

Well Being
Community pairs easily with height adjustable tables, promoting frequent posture changes within individual work spaces.

Multi-Tasking Hutches
Integrate monitors, tackboards or white boards to enable multiple activities within one Community space.

Natural Boundaries
The Community workwall divides space in a costeffective way, replacing drywall or millwork while supporting additional workplace collaboration.

Sliding Worktops
Worksurfaces glide along the Community rail, giving users the power to convert individual spaces into team places and back again.
Access to Power & Data
Conveniently placed power with flip door access makes it simple for anyone working along the Community spine to plug in at their own work station.
Cords can be hidden behind the closed door to keep the whole space looking tidy.
L-Pull
Rectangle Pull

Bar Pull
Loop Pull
Calibrate Community™
RESOURCES