AIS Calibrate®
Laminate Storage
Personal storage that effortlessly integrates with all AIS systems.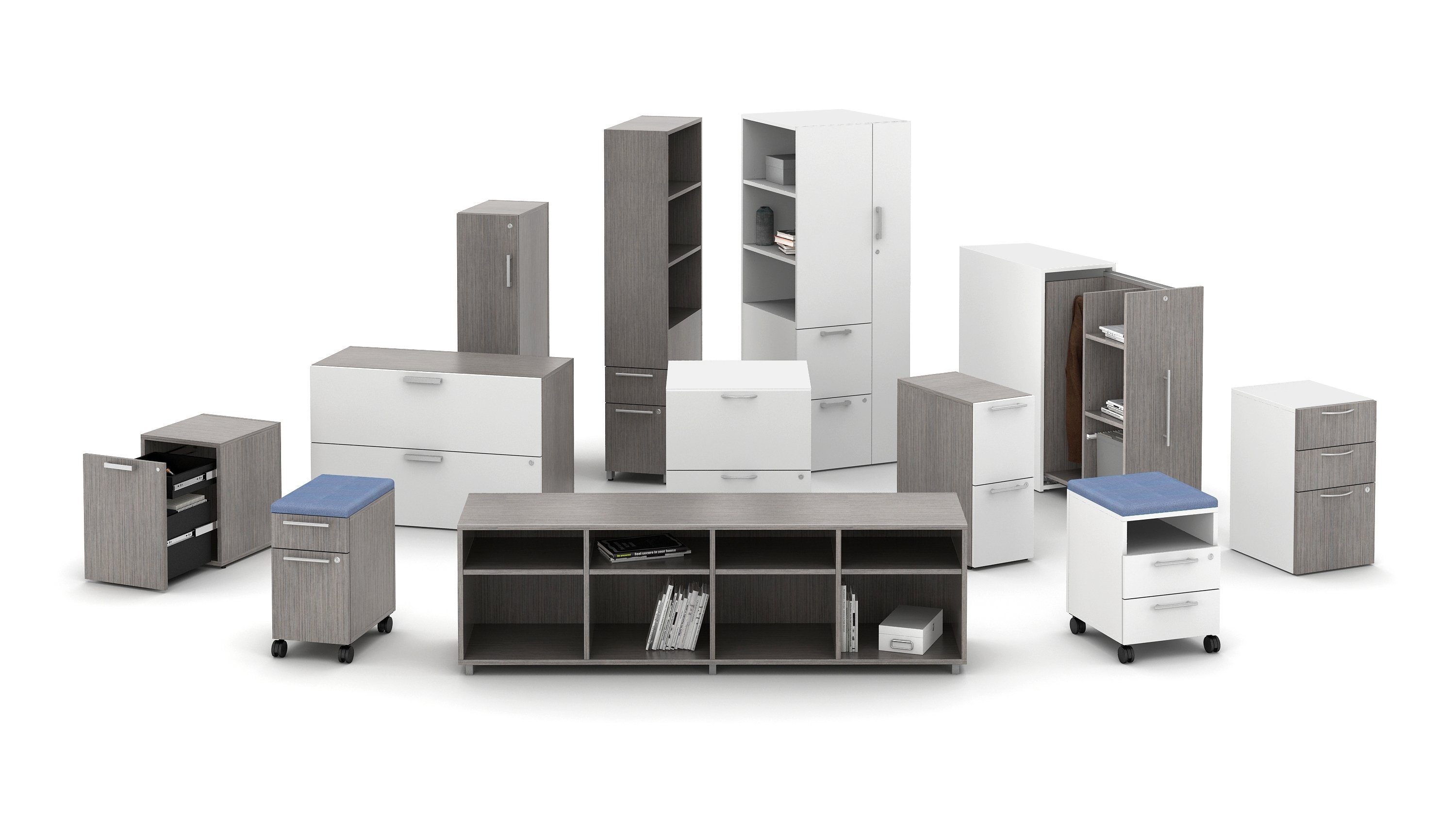 PERSONAL STORAGE
OFFERED IN THE
SIMPLEST WAY.
Inspiration comes easily with the Calibrate Series Storage elements. Its extensive statement of line, broad finish selection, and choice of pulls mean there's something for practically everyone.
AIS quality and details make an impact and make the difference. With robust construction, tight tolerances, precision ball bearings and heavy weight shelf supports, the Calibrate Series will perform year after year. And with dozens of design options — including elevated feet — it's easy to support the widest variety of storage needs. Explore the choices, they're all yours.
integrates Effortlessly
with all AIS systems.

Your choices never end with the Calibrate Series laminate storage. The offering provides a range of storage options, including suspended storage that conveniently hangs from the worksurface adjacent to users. Plus, you can select this storage with power, allowing users to charge and secure their personal devices throughout the day.
Pedestal
18, 23, 24, 29, 30 Depths
On Glides, Casters, or Feet
Floor Bookcase
24 – 72 Widths, 14, 18, 24 Depths
On Glides or Feet
Two Door Cabinet
24 – 48 Widths, 18 Deep
On Glides or Feet
Credenza w/ Sliding Doors
Left or Right Hand,
36 – 72 Widths, 18 Deep, On Glides or Feet
Credenza w/ Cabinet Doors
24 – 72 Widths, 18 Deep
On Glides or Fee
Shared Credenza w/ Sliding Doors
Left or Right Hand, 36 – 72 Widths, 18 Deep
On Glides or Feet
BF Wardrobe Tower w/ Open Front
50, 66, 74 and 82 High, 24 Deep
Right or Left Hand, On Glides or Feet
BBF Pedestal Tower w/ Cupboard
50, 66, 74, 85 High, 24 Deep
Left or Right Hinge
On Glides or Feet

FF Pedestal Tower w/ Cupboard
50, 66, 74, 85 High, 24 Deep
Left or Right Hinge
On Glides or Feet
Suspended Utility Storage
With or Without Power
Height Adjustable Table Bases
24 or 30 Depths
BF Height Adjustable Table Bases
24 or 30 Depths
Height Adjustable Table Bases
With or Without Side Access,
Powered or Non-Powered
24 or 30 Wide, 18 or 24 Depths
Height Adjustable Table Bases w/ Bookcase
With or Without Side Access,
24 or 30 Wide, 18 or 24 Depths
Rectangular Pull

Loop Pull

Bar Pull

L-Pull

Installation and User Instructions